A Gathering of Shadows (Darker Shades of Magic, Book 2) by V.E. Schwab
Synopsis: It has been four months since a mysterious obsidian stone fell into Kell's possession. Four months since his path crossed with Delilah Bard. Four months since Prince Rhy was wounded, and since the nefarious Dane twins of White London fell, and four months since the stone was cast with Holland's dying body through the rift–back into Black London.
Now, restless after having given up his smuggling habit, Kell is visited by dreams of ominous magical events, waking only to think of Lila, who disappeared from the docks as she always meant to do. As Red London finalizes preparations for the Element Games–an extravagant international competition of magic meant to entertain and keep healthy the ties between neighboring countries–a certain pirate ship draws closer, carrying old friends back into port.
And while Red London is caught up in the pageantry and thrills of the Games, another London is coming back to life. After all, a shadow that was gone in the night will reappear in the morning. But the balance of magic is ever perilous, and for one city to flourish, another London must fall.
About the Author: V. E. SCHWAB's first adult novel, Vicious, debuted to critical praise and reader accolades. Schwab is the author of YA novels, including the acclaimed The Near Witch, along with writing Middle Grade for Scholastic. The Independent calls Schwab "the natural successor to Diana Wynne Jones" and someone who has "an enviable, almost Gaiman-esque ability to switch between styles, genres, and tones."
Genre: young adult, fantasy, romance, action
More Info: paperback, 512 pages, published by Tor Books on February 23, 2016
Partial Spoilers
I could barely form words for my review of A Darker Shade of Magic. I can't guarantee that this will be any better, but I'll give it a shot.
There really wasn't anything that I didn't like about this book. The only reason I gave A Gathering of Shadows 4.5/5 stars is becuase it all seemed like filler. It is mostly character driven. There is a foreboding threat on the horizon, as White London and Black London come back to bite Red London in the butt. This book builds beautifully, but ends with a tense cliffhanger. (Be warned: You might want to keep A Conjuring of Light on hand, ready to read.) I'd compare this series to the first three Pirates of the Caribbean movies. The first movie could stand alone. And the second and third movies are drawn out and connected.
That being said, the main plot point in part 1 (AGOS) is the Essen Tach or Element Games. The championship is meant for entertainment, while the top magicians battle their way to the top. As an international competition, the Essen Tach also function as a political statement. With all of the importance hanging over his head, Rhy is the one to organize the games. … However, Rhy is not the only one involved; Alucard, Kell, and Lila all enter as contestants . . . although not all of them get involved through "legal" ways.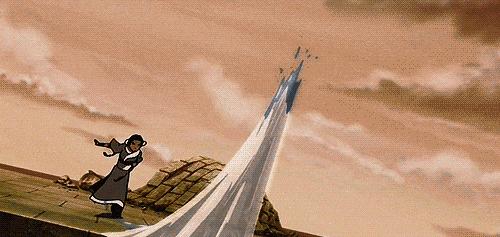 Kell and Lila and Rhy, oh my! I loved learning more about my favorite characters. Kell is restless. He's always working off steam. He feels like a prisoner in his own home. He feels alienated from the King and Queen. And he can't stop thinking about a certain cross-dressing pirate from Grey London. Said knife-wielding Delilah Bard has spent some time at sea. She's slowly trying to earn the respect of the crew. She's also been learning magic from her Captain. She is determined to develop elemental abilities and she pushes herself to every limit. For all her fierceness, her vulnerability gave her a new dimension. And poor, charming Rhy. The darling of Red London has a lot to live up to, with his father letting him run the Element Games. But after dying and coming back to life in A Darker Shade of Magic, he's having major psychological issues.
Alucard Emery! 😍 This pirate, *clears throat* I mean privateer, joins the team. He's a Captain by choice and a Lord by circumstance. We get to see parts of Alucard's backstory, some of which is presented through his interactions with his family. I liked seeing his brother and sister because it made him more developed, but there may have been too much of a focus on the Emery household. I felt like there were three sides to Alucard: the pirate, the lord, and the lover. I both respected Alucard for his present actions, and felt regret for Alucard's past actions and the consequences.
Oh, the ships! (Both of water and people.) While this book does not focus on romance, relationships are formed. They are slow-burning and perfect. I was filled with tension, just waiting for the moment when Kell and Lila met again after four long months. And now Rhy has a new love interest, the infamous Alucard Emery! I wasn't expecting this pairing, especially after Alucard hit on Lila, but I am totally behind it. I enjoyed seeing the expansion between Kell's relationship with his "brother," Rhy. Their support for one another only grows, despite their issues. The other non-romantic anti-relationship that caught my attention was the  animosity between Kell and Alucard. I loved Kell's protectiveness for Rhy, but I felt for Alucard at the same time. I wondered where the tension came from up until it was revealed.
I enjoyed this book, despite the lack of serious conflict. You get to see more of the characters and their motivations, so the character development is on point. This world is perfect and I was excited to see more of Red London. The various competitors and their appearances shed light on the other territories in Kell's world. For example, I thought it was so unique that one of the groups from another country had Jewels in their skin. The writing is beautiful and the novel is perfect. If you haven't read A Darker Shade of Magic, yet . . . then what are you waiting for?
Buy it here: